Small-Middle size aluminum melting and holding furnace
「NM Furnace」
---
We realize a total maintenance.
NM furnace is an energy-saving non-crucible type furnace which combines melting and holding functions. With our own made furnace and refractories, it enables operators to save time and effort and make easy total maintenance.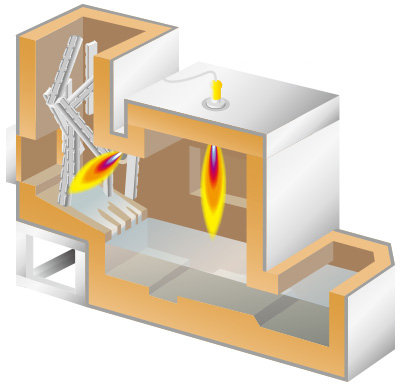 High quality own made refractories back up its performance
Our own made refractories are used for entire melting and holding chambers (except for the lining above the holding chamber metal line). NM furnace exhibits optimum performance with our refractories. It has characteristics of securing higher quality molten aluminum with lower metal loss and the easy maintenance.
AR Firebrick


High performance with molten aluminum penetration resistant type


Castable

Our ALUTEX-SAL has special additives to prevent penetration and adhering of molten aluminum and aluminum oxide.
Aluminum penetration test

Tested alloy
AC7A(Si:0.06%)
Holding temperature
1,000℃
Holding time
100Hrs
Evaluation
Evaluate by the increased Si amount of molten aluminum. (Si increase is better)




ALUTEX-SAL

Our technology realizes non-aluminum and oxide sticking.




Other company product

Aluminum and oxide sticking are observed.
Distinguished structure secures strong support for molten aluminum quality and proper maintenance
It secures stable molten aluminum quality and has our unique technology to maintain the furnace with good condition for longer period.



Entire refractory repair

Furnace body life can be prolonged because refractory lining can be replaced. So, no entire furnace replacement is required.




Removal furnace lid

Higher quality molten aluminum is secured because periodical oxide removal work can be done.




Compact size high quality burner

Numbers of used parts are less than half compare to the other similar type furnaces. This will make maintenance work less and easier.
Various ideas to improve labor and energy saving
Realizing incorporated technology based on our high level R&D and accumulated experience.



Power saving double blower

Electricity consumption is less than 1/3 compared to the other similar type furnaces. Melting and holding combustion can be controlled separately.




High efficiency combustion control

High efficiency burner secures less generation of aluminum oxide and energy saving at the same time.




Complete sealing top damper

Reduces heat loss during melting and holding and utilizes energy saving.




High efficiency preheating tower

Special design secures approx.20% energy saving compared to the other similar type furnace.
Reference schematic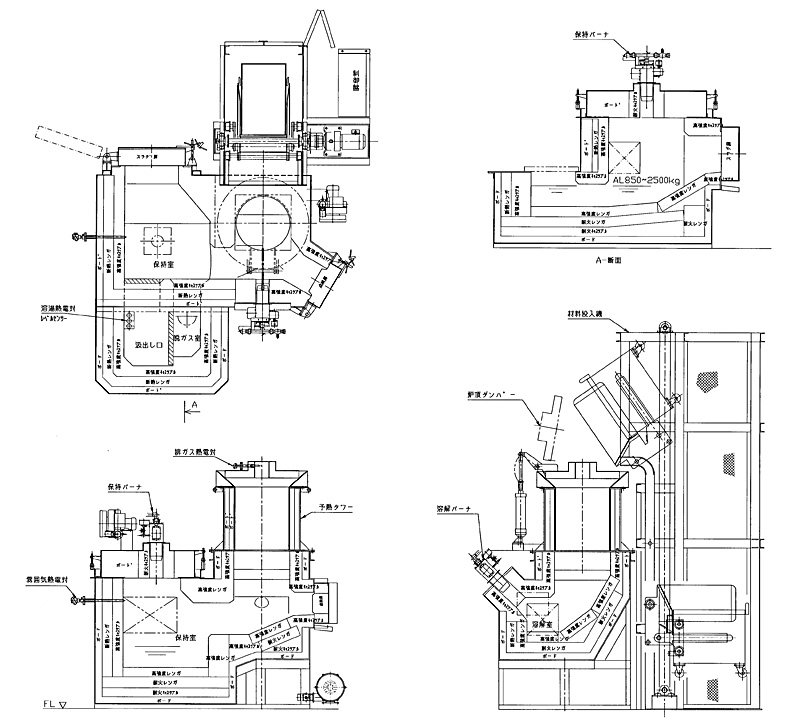 Specifications
| | | | | |
| --- | --- | --- | --- | --- |
| Model | Capacity | Holding Capacity | Melting Burner Capacity | Holding Burner Capacity |
| NM-200 | 200kg/h | 600kg | 100,000kcal/h(116kw) | 800,000kcal/h(93kw) |
| NM-300 | 300kg/h | 800kg | 150,000kcal/h(174kw) | 150,000kcal/h(174kw) |
| NM-500 | 500kg/h | 1500kg | 250,000kcal/h(290kw) | 150,000kcal/h(174kw) |
| NM-700 | 700kg/h | 2000kg | 300,000kcal/h(350kw) | 200,000kcal/h(233kw) |
* Specifications and layout can be adjusted according to the customer requirements.